What to Expect when Travelling Abroad
The Government has provided a list of countries exempt
from a UK quarantine, effectively giving the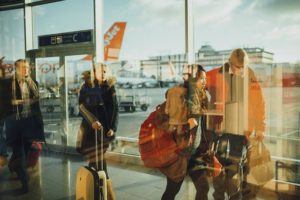 go-ahead for holidays this summer.
The list, expected to be revealed as a 'traffic light system', will also coincide with the loosening of the Foreign Office advice, which has warned against all but essential travel since mid-March.
The announcement will mean English holidaymakers returning to the UK from 60 countries will no longer need to self-isolate for 14 days.
The Government had originally hoped for a UK-wide approach, but the England-only exemptions come after days of disagreements with the devolved legislatures in Scotland and Wales.
Please note that prior to booking a holiday it is worth checking Foreign and Commonwealth Office advice at www.gov.uk to ensure that your destination is a safe one to visit.
What you might expect when travelling:
Possible delays
Airports have various COVID restrictions to avoid overcrowding.
Wearing of face masks
This is currently compulsory with most airlines and should also be worn on public transport, check before you travel.
Food and drink
Be aware of the likelihood that food and drink outlets may be either closed or busy.
Social Distancing
Observe social distancing at all times for your own protection and for the protection of others.
What should you look for in your travel insurance policy?
Annual or single trip
If you intend travelling more than once in a year then annual cover may be the best bet for you and your family.
Long Stay and backpacking
Generally, specialist Long Stay cover is needed if you intend to spend more than 30 days at your intended destination or if you are going to various destinations.
Medical care
The best policies offer between £10-20m for medical expenses and you should look for this as a minimum level of cover. Take care to ensure that there are no pandemic or COVID-19 exclusions applied to the cover provided. If there are, raise this with your insurer or broker as we are aware that some policies will still cover this.
Most policies will exclude pre-existing medical conditions unless they are disclosed and agreed by the insurers prior to the start of cover so make sure you engage properly with your insurer and tell them all about any conditions you may have.
Holiday cancellation or curtailment
Make sure that you have bought coverage to cover the full cost of your holiday and again make sure that you understand the limitations or exclusions that may be applied by insurers in light of the pandemic and how last-minute FCO changes can affect your cover.
Winter sports and hazardous activities
It sounds obvious to say, but if you are going skiing, make sure your policy covers you whilst you are on the slopes! In addition, bungee jumping, white water rafting, and a lot of other hazardous pursuits may be excluded, it is worth checking your insurance before you participate.
Price
Insurance is no different from any other form of product, you genuinely do get what you pay for. Look to insure with a well-known insurer, they are always keen to protect their brands by offering a quality claims service.
Making a claim
If you ever need to make a claim please do so immediately. Delays may mean that insurers are able to avoid making a payment.
Never travel without insurance
Policies are inexpensive and are operated by specialists that are able to provide full assistance should anyone become sick or injured whilst that are on holiday.
Claims Assistance
We are always happy to assist our clients should they ever have an issue in making a claim. Please feel free to contact us and we will fight your corner where an insurer has been unreasonable.
And Finally…
May we wish you happy, safe and healthy holidays!