Green cards and driving abroad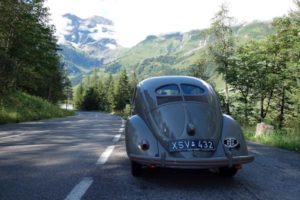 A 'Green Card' provides proof of motor insurance cover when driving abroad. UK motorists should prepare to carry 'Green Cards' as proof of insurance cover when driving in the EU, EEA, Switzerland, Serbia and Andorra from 1 January 2021, including in Ireland.
All UK motor insurance policies will continue to provide third-party motor insurance cover for travel to EU and EEA member states so UK motorists will not need to purchase additional third-party motor insurance policy cover to meet that country's minimum insurance requirements.
You may still need to contact your insurance broker or company if you want the same level of cover as you have in the UK.
How do I get a Green Card?
You should contact your insurer or broker at least 6 weeks before travel in order that they can suppled you with a Green Card for your vehicle, caravan or trailer. Insurers may charge an administrative fee for issuing a Green Card.
New rules on Green Cards mean that they can now be printed out by policy-holders on white paper.
Motorists will need to carry multiple Green Cards if:
They have fleet insurance – motorists need a Green Card for each vehicle

The vehicle is towing a trailer or caravan – motorists need one for the towing vehicle and one for the trailer / caravan (motorists need separate trailer insurance in some countries)

Motorists have 2 policies covering the duration of the trip, for example, if the policy renews during the journey
The process for obtaining a Green Card varies depending on the insurer. Some insurers will require motorists to request a Green Card, whereas some insurers will send Green Cards to policy holders automatically.
You will need a paper green card as regulation does not currently allow for electronic copies.
What is my renewal date occurs when I am travelling?I
If a motorist's policy is due for renewal during the period of travel, motorists will be required to obtain two Green Cards – one for each policy. If motorists change insurers, motorists should ask both their current and their new insurer to provide a Green Card.
When will I need to show my green card?
Motorists may be required to show their Green Card at the border when entering the EU/EEA or moving between EU/EEA member states, but this will depend on the border authorities of the relevant country. Motorists may also face police checks while driving abroad and will need to present a Green Card if they are involved in an accident.
The Government is working on the UK remaining  part of the Green Card-free circulation area but this has not yet been agreed.
Do Northern Irish motorists need a Green Card to drive in Ireland?
Yes, motorists should prepare to carry a Green Card to drive in Ireland from 1 January 2021.
What if motorists drive abroad without a Green Card?
It will be illegal to drive abroad without a Green Card from 1 January. Motorists may be prosecuted, face penalties or fines, or have their vehicle seized.
GB stickers
UK motorists should display a GB sticker on the rear of their vehicle and trailer when driving outside the UK, including in the EU/EEA, even if they currently have a number plate which includes the GB identifier under the EU logo.
It is not an offence under Irish law for GB or Northern Ireland registered vehicles to drive in Ireland without a GB sticker attached to the vehicle.