Why Public Liability Cover is not always enough for Gallery Owners
The Art Business News once cited "human intervention" as the primary reason that artwork
gets damaged.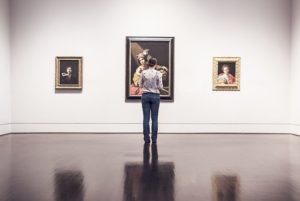 But while we tend to think of artworks as delicate paper and paint, they can present just as much risk as the people around them – especially sculptures that are made from heavy materials or that sport a lot of sharp edges.
Countless artworks have injured admirers at exhibits, and caused damage to the surrounding property (and staff) during installation.
Sometimes it doesn't matter how careful your handlers and carriers are, how many times you tell people to keep their distance, nor how many "DO NOT TOUCH" signs you put up.
Accidents can and will happen. That's why we have public liability cover.
Public liability insurance explained: in 100 words or less
Public liability insurance covers your legal liabilities for third party injury and property damage that may have occurred as a result (whether directly or indirectly) of your business activities.
Having the right public liability cover means that compensation for those affected comes out of your policy, rather than your pocket. This can save you serious financial losses such as legal fees, personal injury compensation and property damage. (Or more the costs of restoring and replacing priceless works of art.)
Public liability insurance is vitally important to many small businesses, and therefore, gallery and studio owners too.
But does your public liability insurance cover you enough?
Like we mentioned in our blog on art cover in transit, having art pieces that are equally covered off the premises of your gallery or studio is a detail that is too often overlooked by collectors and other lovers of art.
You might already have a gallery policy in place that ensures you can pay compensation for the injury of visitors, or pay an artist for the restoration (or worse, replacement) of their work in the unfortunate incidence of it being damaged or marked at one of your exhibitions.
But as your art practice grows, so does your exposure to risk. And as soon as you reach the point where your art activities take you on the road, to other public places, events and functions, you need to start looking into public liability cover – and you shouldn't stop looking into it until you've secured something that covers you to the extent you need.
Essentially, you need to ensure that your art pieces, the people that engage with them, and the property surrounding them, are all protected – regardless of whether or not they are on the premises of your business.
Is public liability insurance a legal requirement?
While public liability isn't a legal requirement, it can be a huge weight off the mind. Both for you, and the people that choose to work with you.
It will vary depending on the size and nature of the exhibition or art fair in question, but many entities and organisations will only work with artists and art dealers who have public liability insurance as a contingency.
We have seen our clients experience this on numerous occasions, with some art fairs requesting that their exhibitors have as much as £5 million of public liability cover in order to be a part of their event (and that was as a minimum).
Getting insurance from the right provider
The right insurance provider – knowing that you intend to do more than simply keep your entire collection hanging in one place at all times – should have a policy that already stretches to cover these eventualities, automatically stretching to accommodate public liability in the instances of art fairs and exhibitions as well as in your gallery.
To talk more about getting the right forms of cover to protect your art and business, give us a call.