Not all Cover is Created Equal: Office & Shop vs Bespoke Gallery Cover
In the art world, many dealers and gallery owners don't realise their insurance isn't
enough until it fails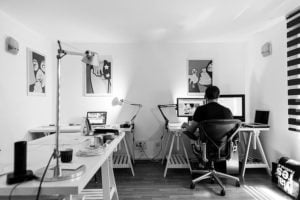 them.
The frustrating part for us as insurance providers is that, we know the grave repercussions that come from insufficient cover are mostly down to nothing more than misconception.
The dangers of basic shop & office policies
As we touched upon in our Realist's Guide to Art Insurance, many owners of galleries, studios or other small arts businesses presume that they're protected by the terms and conditions of standard contents insurance – the cover commonly used by shops and offices.
This can leave art businesses owners drastically short of the compensation they need.
If you want to avoid reputational damage, financial losses, and the burden of not being able to adequately recompense the loss of priceless works of art, you need to know the difference between a basic cover policy, and one that is designed to support the unique needs of a business in the art sector.
For shop and office policies
This is the area where most people will find themselves at a drastic loss in the event of something like damage or theft.
Shop and office policies will almost always settle on the constituent value of the art. In most cases, that's nothing more than an imbursement equal to the price of paper and paint.
Depending on the value of the works you are dealing, this could equate to losses of hundreds of thousands of pounds.
For a gallery policy 
A gallery-specific policy on the other hand, will settle based on the consignment value, or the cost price paid for the art. Brownhill's gallery policy even comes with a 30% uplift as a policy benefit.
A gallery policy will also investigate whether any damaged or lost work can be restored, and will also offer the business owner support and assistance in the interim to minimise reputational damage.
For shop and office policies
When it comes to worldwide transit and international shipping, shop and office policies will not cover you.
If you are trading with a shop and office insurance policy, you will need to source an entirely separate marine or cargo policy to protect your works in transit overseas.
For a gallery policy 
A gallery policy can include the cover needed for worldwide transit and international shipping at a client's request, with policies that can be tailored according to their individual requirements.
For shop and office policies
In most cases, shop and office insurance policies will not extend to cover your goods at a third-party venue, fair or exhibition.
This essentially means as soon as your artworks leave the premises of your gallery or studio, they are completely unprotected in the event of material damage or a public liability claim.
For a gallery policy 
Gallery policies will offer this additional cover as standard, meaning you are just as covered off site as you are on site.
Final consideration…
If an insurance provider offers gallery-specific policies, it's highly likely they have a greater knowledge of the art market, its dynamics and its nuances, than their peers.
They are more likely to have a greater passion for art in general too. As such, they will probably have a stronger sense of duty when it comes to applying real care on behalf of their clients.
So when it comes to insuring your gallery, studio, or artworks you intend to trade, opt for a provider that is au fait with the world of art.
If you want to discuss a gallery-specific insurance policy with someone from the Brownhill team, here's how you can contact us