The importance of getting transit cover for your fine art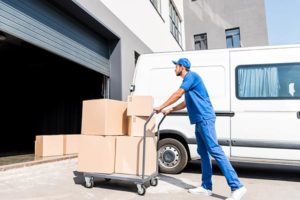 From our experience of insuring different clients in the world of art, the vast majority of fine art claims tend to happen while an artwork is in transit. After all, art is made to be looked at, pondered upon and admired – rarely to be moved in a manner that is secure and practical.
Transportation and storage are two of the riskiest processes involved in owning pieces of fine art. And sometimes, in spite of all our best efforts and intentions, damage is unavoidable. 
But while the inherent risk that comes with transporting fine art pieces is something few readers of this will be unaware of, what tends to lead to real problems for gallery owners, collectors and art enthusiasts – namely severe financial losses – is not having the right cover policy in place.
In most cases, those affected don't realise they're insufficiently covered until it's too late.
Ensuring you have transit cover
When it comes to insurance cover, most gallery owners, collectors and arts enthusiasts tend to fixate on insurance for the premises on which their fine art is displayed.

But most office, shop and even home policies don't protect art if it is mobile, and will only cover your artworks when (and only when) they rest on the premises of the property outlined in your cover.
So the first step to protecting your piece of art – whether you intend to move it for an exhibition, or you're a collector moving house – is to ensure you get transit cover for your fine art.

Look for cover worth more than its weight
While generic transit cover policies can be a lot easier to find and sign off, their terms and conditions regarding financial compensation tend to be calculated on the basis of weight.
For industries where the weight of what is being moved tends to equate to its value – such as say, construction – this is ideal.

But when art owners make the mistake of using policies like these, they will more often than not find themselves grossly undercompensated in the event of any accidental damage to their piece.
The value of an art piece is almost always going to be vastly more than its physical weight (perhaps with the exception of sculptures).

So working with an insurer that tends to work with haulage companies means you could end up with five pounds worth of cover, rather than the fifty thousand that you need.
The key is to look far and wide for a cover in transit policy that is specifically created with the intent of being used for works of fine art. 
That way you can secure appropriate levels of protection for your prized possessions or exhibition pieces.
Prevention as well as cover
Using the correct equipment and materials can significantly help to protect your items from external damages. 
Custom fit crates for example can reduce movement within the box during transit, dramatically reducing the risk of markings and damage to your art.
It is also a good idea to ask your insurance policy provider which carriers they recommend working with.
After all, if they provide special cover to protect art in transit, it's highly likely that they will have a preference of mover to work with – ones that are more accustomed to handling more precious items.
Our insurance policies cover goods both in transit across the UK, and also provide protection against the many risks involved in international transit.
Give us a call if you'd like to hear more about how we can help keep you and your art covered.